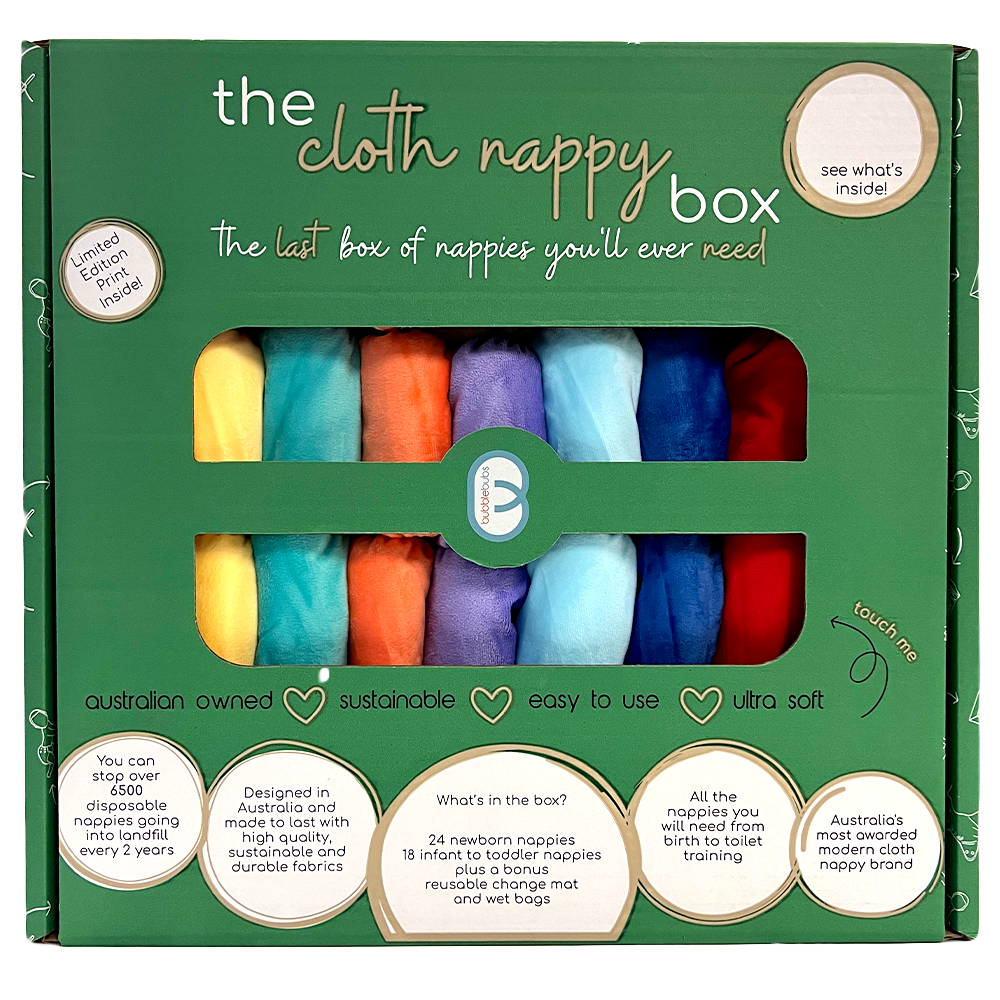 What You'll Receive In This Designer Cloth Nappy Box
In cloth nappies there are 2 stages, Newborn and Infant to Toilet Training. 
Your Cloth Nappy Box has cloth nappies for all stages.

We also include extra accessories to help you on your cloth nappy journey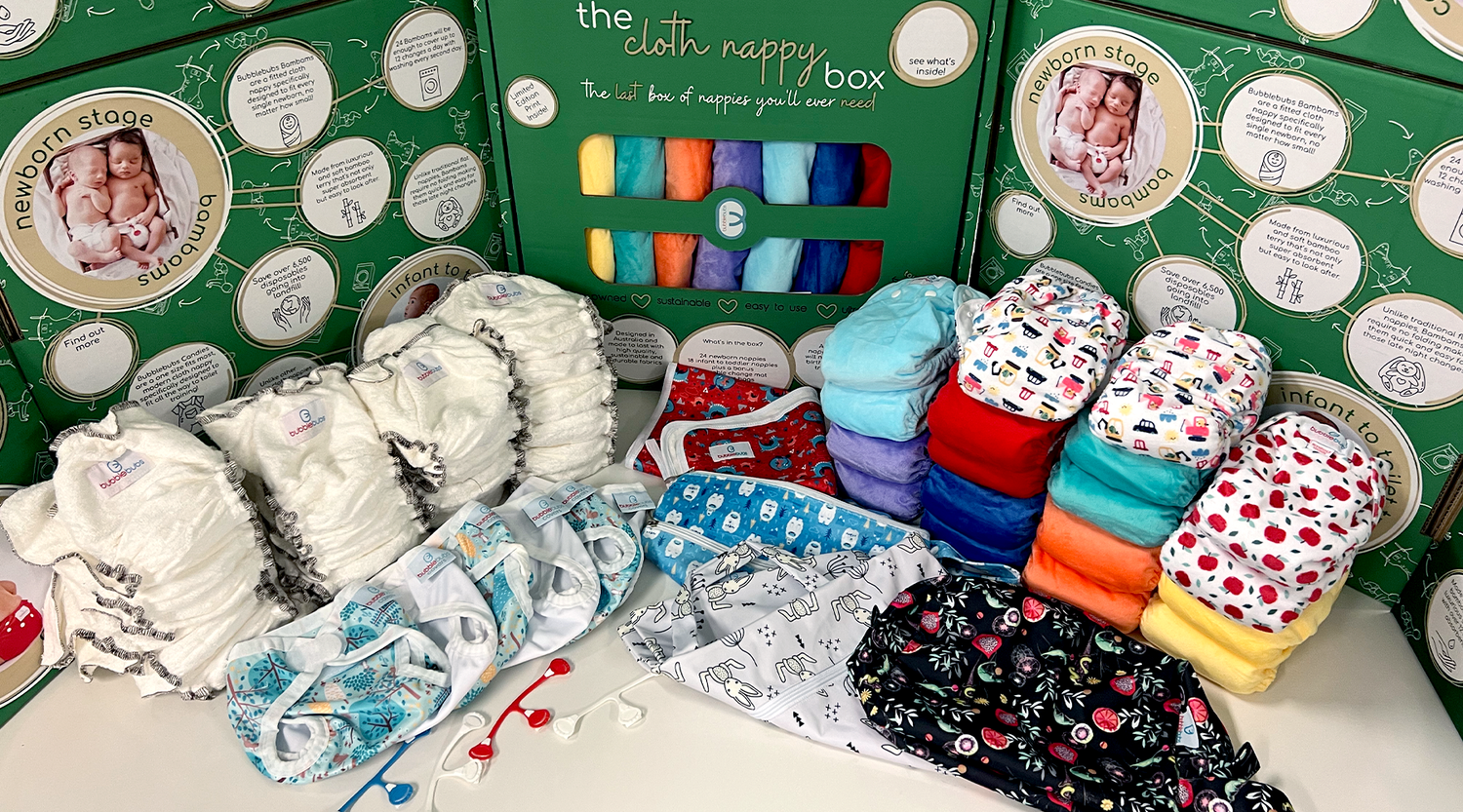 Your Cloth Nappy Box Includes
24 Bambam Newborn Cloth Nappies
6 Newborn Covers
4 Snappi to do the nappy up there is no messing with pins
18 Candie Cloth Nappies 
1 Change Mat when need to change a nappy away from home
1 Ultimate Wet Bag to store used nappies until you wash them
1 Pod Wet Bag to store 6 Candies when you are out of the house
1 Double Pocket Wet Bag for when you are out and about
Newborn Stage.
This is the stage where you will change the most cloth nappies per day. Between 8 to 10 a day. Your baby will normally need to be changed after or before feeling. Sometimes more, as this is not an exact science.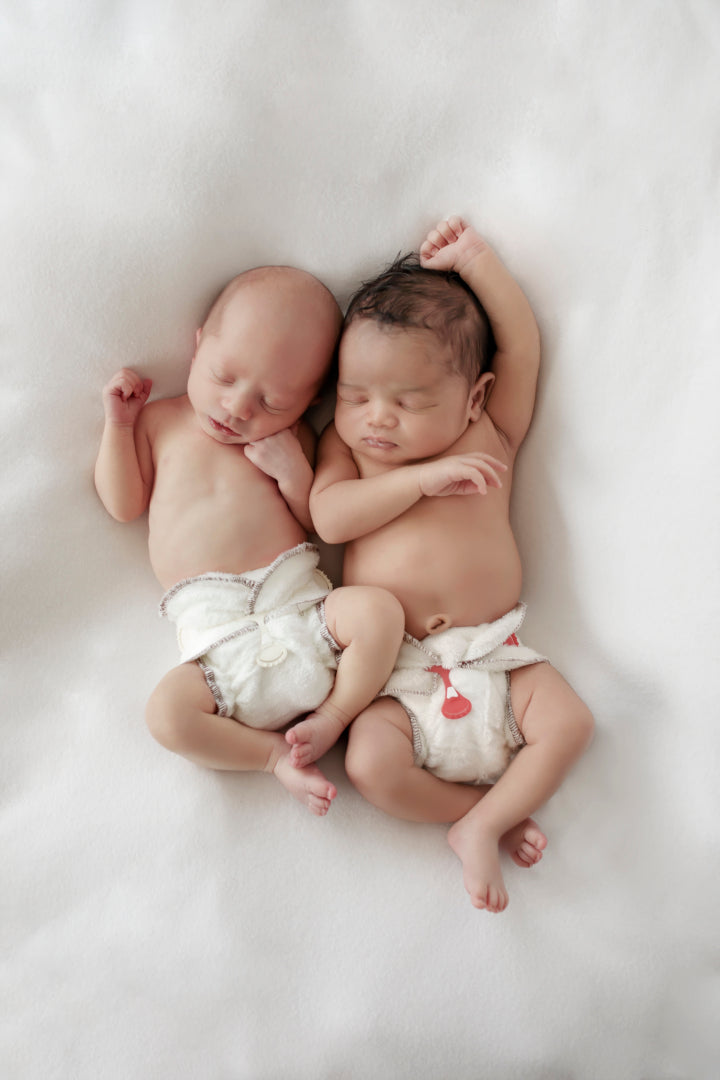 Bambam x 24
The first cloth nappy you will use will be the Bambam. This cloth nappy is soft and absorbent. It's like wrapping a soft, breathable warm blanket around your baby.
The Bambam will fit your baby no matter how small.
- No messing around with pins
- No complex folding needed
- Will fit any size baby
- So soft and absorbent
- Makes Middle Of The Night Changes Less Stressful.
Lean more about the Bambam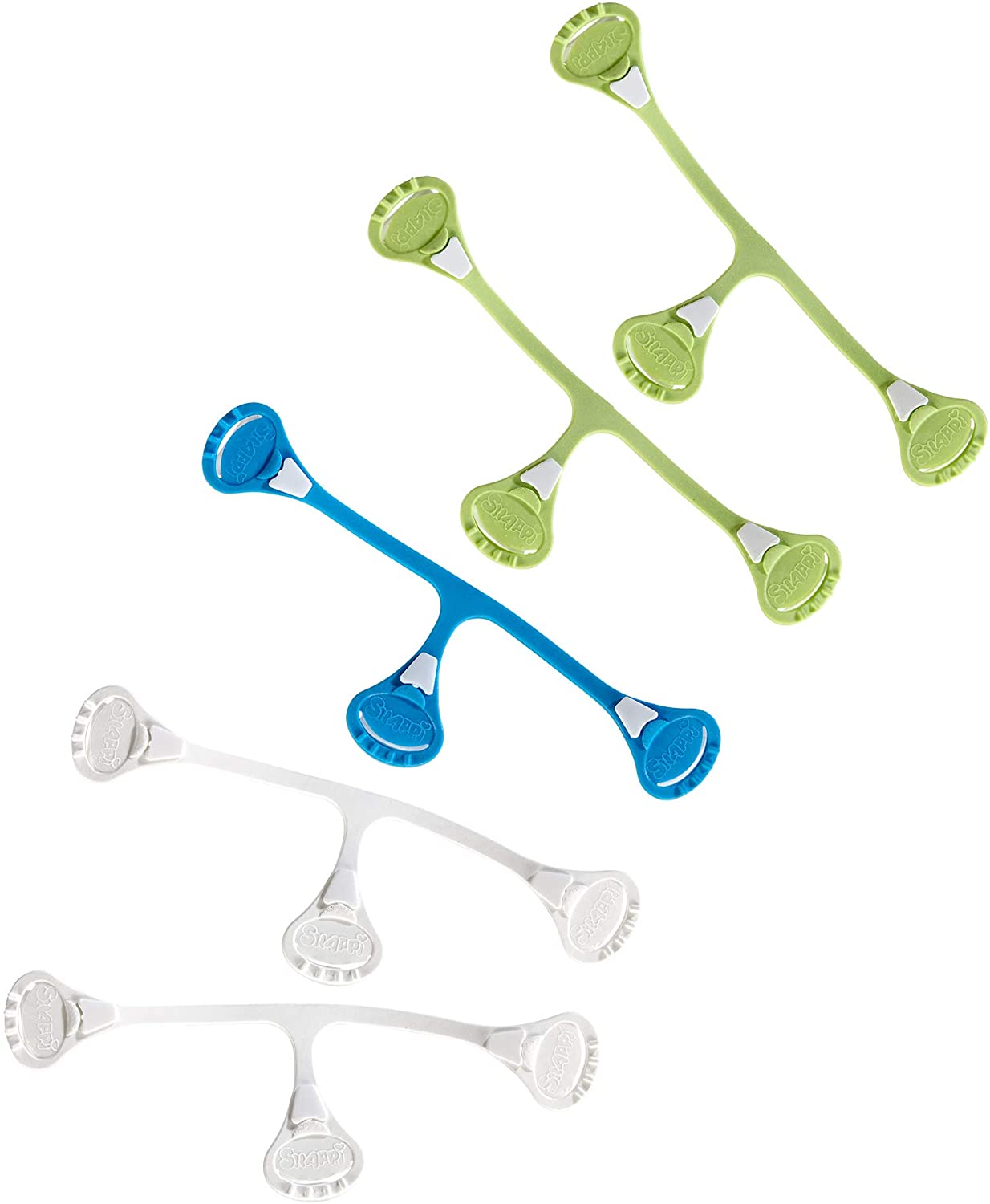 Snappi x 4
Forget nappy pins! Get yourself a Snappi!

Secure your babies nappy in three easy steps with a stretchy fastener and grippy teeth. Snappi's are safe, easy to use and come in an array of fabulous bright colours.

These easy to use nappy fasteners are made from a stretchable, non-toxic material, which is T-shaped with grips on each end. These grips hook into the cloth nappy to ensure a snug but comfortable fit for baby making the use of cloth nappies easy and ouch less! (for you and baby).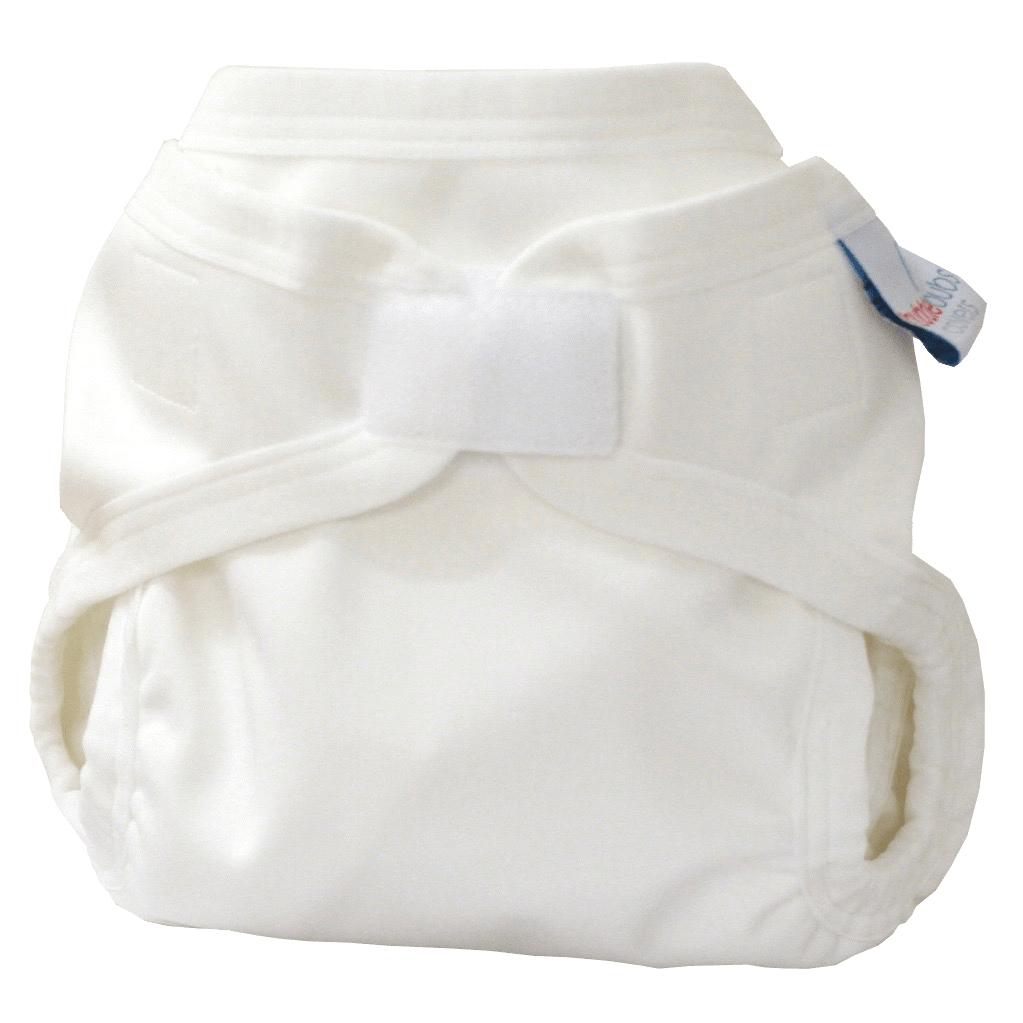 PUL Covers x 6
Our cloth covers are made with a breathable PUL fabric sandwiched between 2 layers of polyester knit. These super soft covers are fastened with HTH (high technology hook) tape. It's unique low linting design means it continues to grab well after other touch tapes have clogged with fluff, it is also a lot softer than traditional velcro's so it won't rub on your little one's skin.

These covers are made with a gusset giving extra protection against poonami's. PUL covers are the perfect fit over our Bambam's.
Infant To Toilet Training.
When we say toilet training, what we are saying the end of your baby wearing nappies. Most babies toilet train much earlier than babies in disposables. Because they have been training their whole life to know when they have done a wee or poo because they feel it. They stay dry liner of the candie does wick it away but not before they know they have done a wee. Because of this, you not need pull-ups or any other transition product. So again you are saving money and not throwing another disposable product in the bin.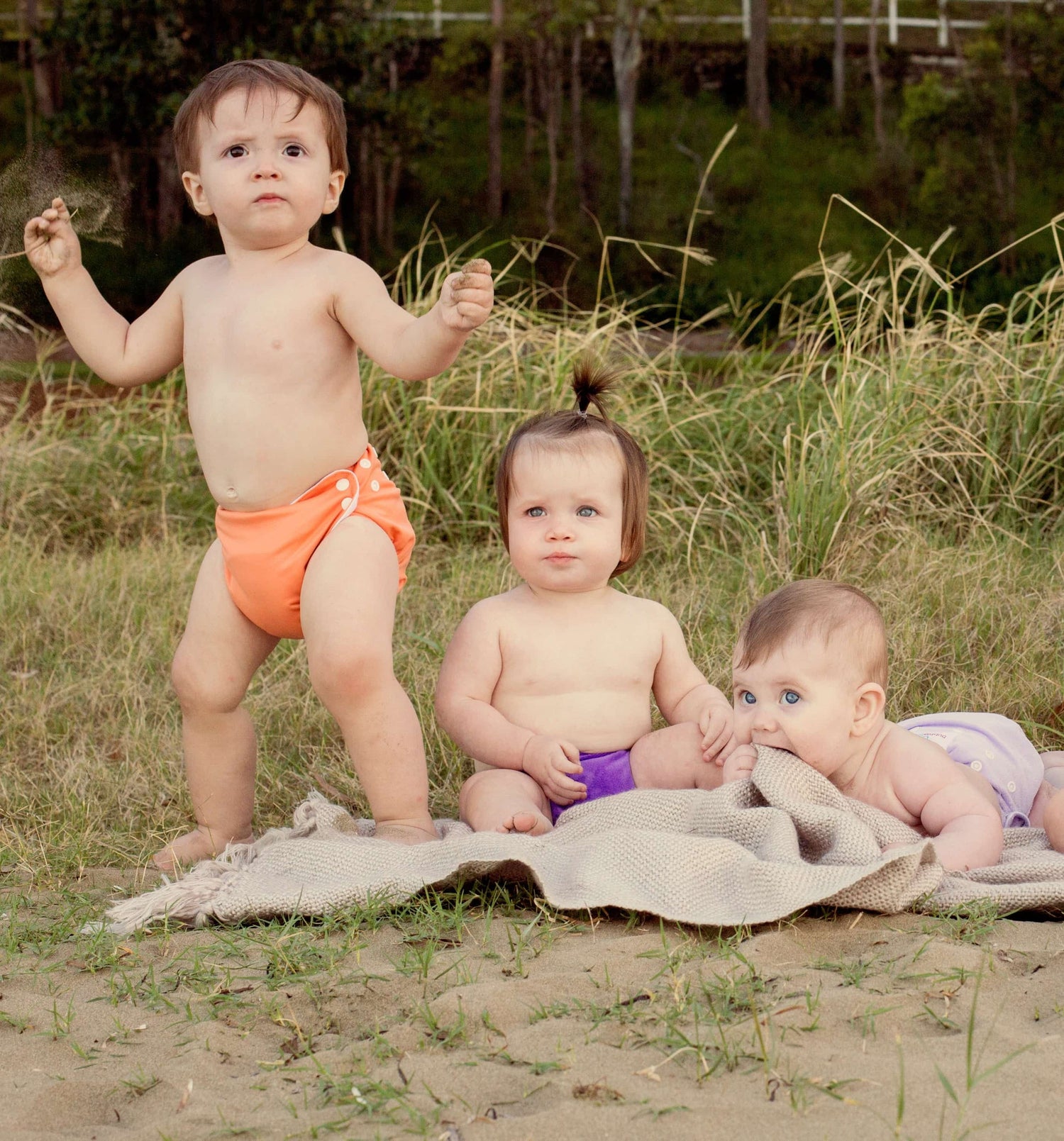 Candie x 18
The Candie is a one-sized fits most side-snapping cloth nappy. They fit from round 3kgs. Inside the nappy, you'll find a snap in trifold and lay in booster, both made from super-absorbent high-quality materials. The Candie is Australia's most awarded all-in-two cloth nappy. The Candie is a hard-working and reliable cloth nappy; you will pick up first out of your cloth nappy stash.
- Adjustable Absorbency
- Easy To Use Side Snapping Nappy
- Highly Absorbent, Naturally Breathable
- Trim Fit From 3Kg
- Made From Super-Absorbent High-Quality Materials
- Australia's Most Awarded All-In-Two Cloth Nappy
- Specifically Designed To Grow With Your Baby
- Suede-cloth Panel Keeps Your Baby Dry
Learn More About The Candie
Not just nappies, also extras to save time and more money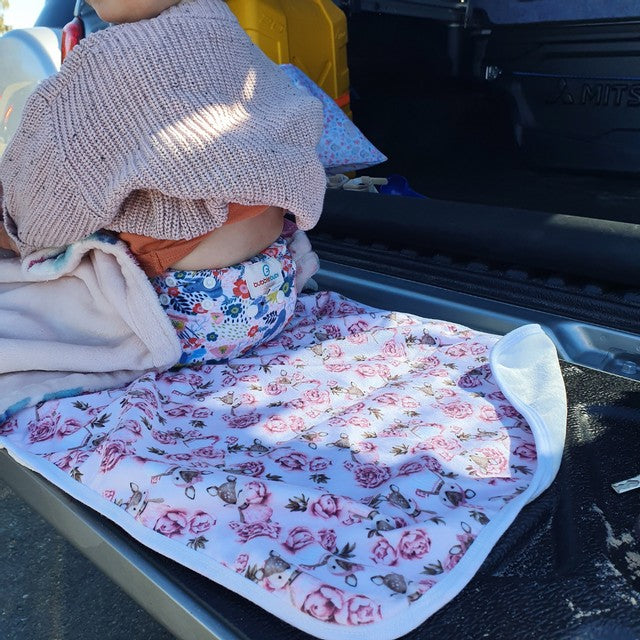 Change Mat x 1
Our change mats are an essential accessory for out and about!

Bubblebubs change mats make changing easy wherever you are simply spread the change mat over whatever flat surface you have available and know that your baby will have soft fabrics against their skin.

If there's one thing I hate about nappy changes out of the house, it's putting bubs down to change them. You just never know how clean the baby change station in wherever you are and it's great peace of mind being able to lay your little love on something you can guarantee is 100% clean. Not only that but when you're at a friend's house and need to change baby, you don't have to feel awkward about dirtying their sheets…or furniture…or carpets in the process.

In an emergency, I've even had to change my babe on the floor of the disabled toilets, and I've been so thankful to have my change mat along with me. Such a lifesaver and folds up nice and compact for saving space.

- Generously sized at 75cm x 45cm
- Made from super soft bamboo velour on one side and a fun laminated minky or PUL print on the other
- Machine washable
- Folds up to take up minimal space in your nappy bag
- Fits perfectly in our Wet Bags
Wetbags
Containing dirty cloth nappies is the reason wet bags were invented. You're out and about and you need to put a dirty nappy somewhere, the wet bag is here for you!

Wet bags are brilliant at keeping in smell so you can deal with "everything" when you get home. They can basically be used anytime you would normally use a plastic bag. But they're reusable and won't end up in a landfill! And let's not forget, much prettier than a plastic bag. At some point, we might think we have "enough" nappies and our children might toilet train but you can never have enough wet bags and you can never grow out of them.
Beach Bag

Whether it's the beach, pool or lake, toss the kids wet togs into the wet bag for the journey home.

Why not use a wet bag to store your sunscreen and save it from the sand.

Travel Laundry Bag

For the weekend visits, use the wet bag to store your dirty laundry. It keeps all of those clean (didn't really need to pack) clothes safe in your suitcase.

Make-up or Toiletries bag

A wet bag is a great place to store your makeup and toiletries, especially for those unexpected leaks whilst travelling!

Workout Clothes

To contain your sweaty gym clothes, keep a spare wetbag in your gym bag and stop the smells from getting into everything else.

Breast pump Storage

You want to have a few cheeky wines whilst on holiday so that means you will need to pump away from home. Use a wet bag to keep all of your pump parts in a safe place.

Beach Bag

Why not use a wet bag to store your sunscreen and save it from the sand. That has got to be a pet peeve of mine… sand on the top of the opened sunscreen bottle!

Cloth Pad Bag

If you use cloth pads, a wet bag is the perfect place to store rinsed but not washed pads.

A Dry Bag

Although it is designed to keep wet things in, it is pretty good at keeping moisture out too. If your bag has two pouches, use one for keeping things dry and the other for the wet items.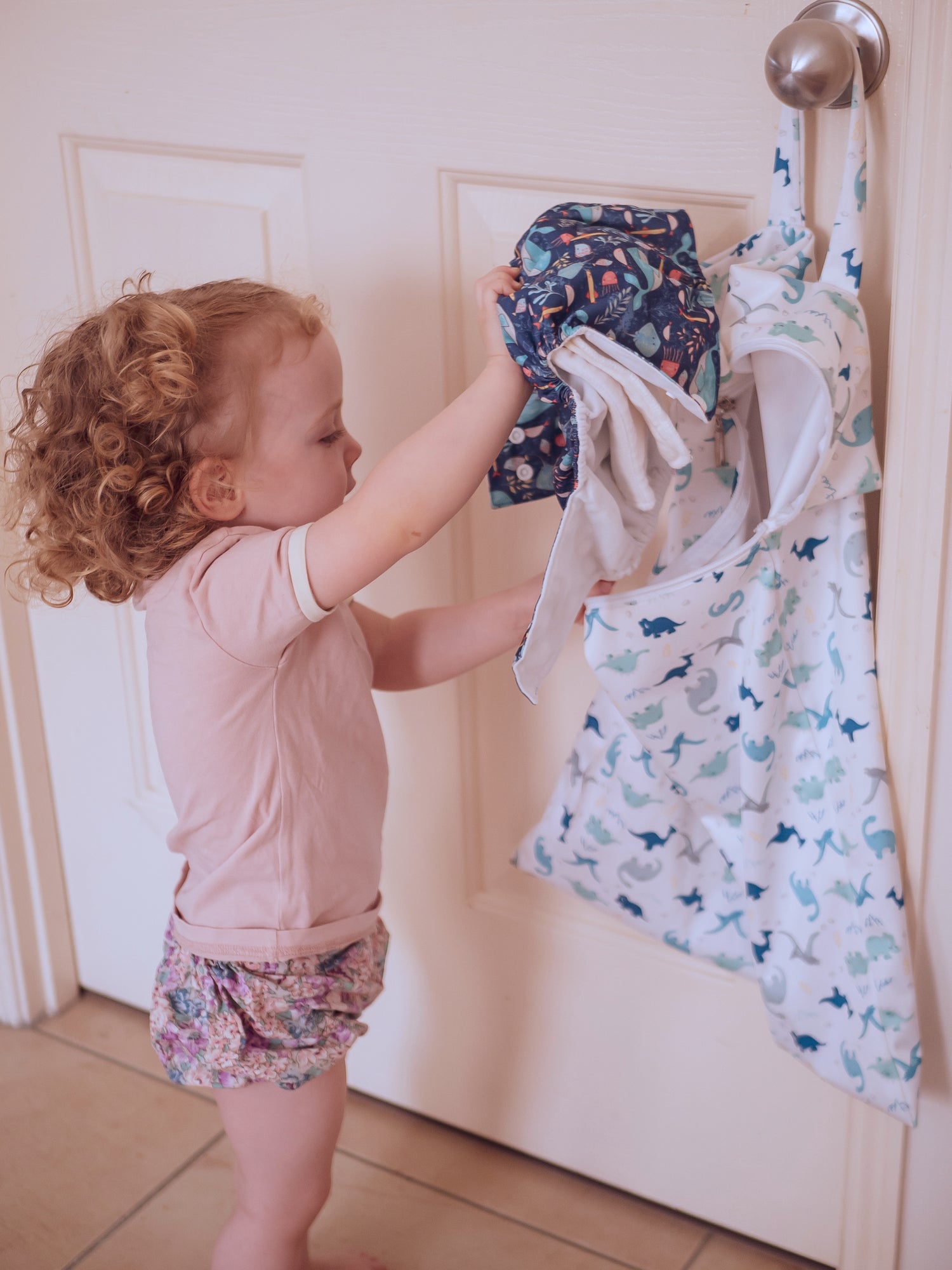 XL Wetbag x 1
The large wetbag is designed to hang on the doorknob or a hook and store the nappies until it's time to wash. Pop the nappy in and zip it up and it contains everything, including the smell.

- Sized at 41cm x 54cm
- Fits about 2 days worth of nappies
- Sturdy handle to hang onto doorknob
- Breathable PUL laminated bag with our limited edition prints in minky or PUL on the other
- Machine washable
- Durable zipper
- Very versitile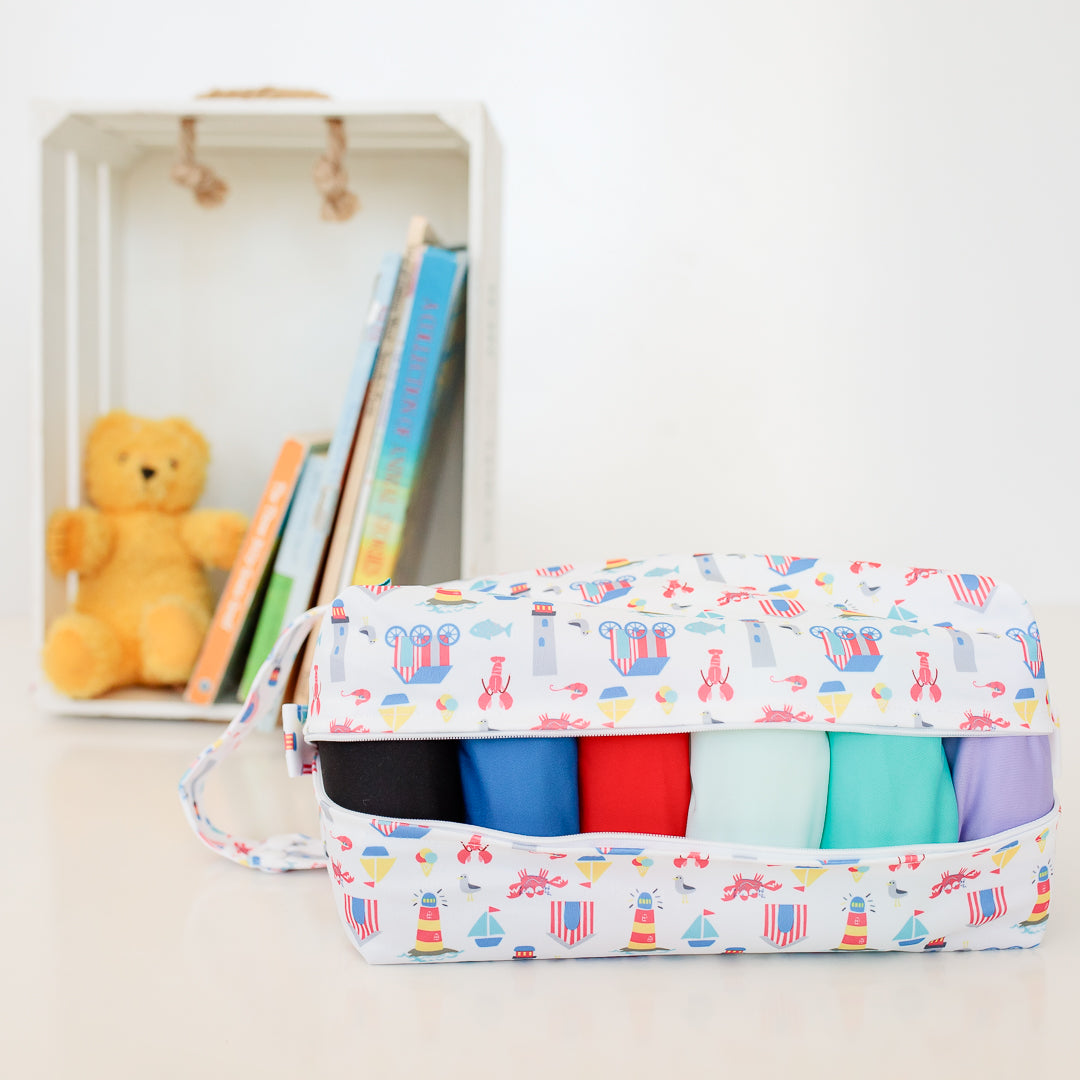 Pod Wetbag x 1
We made this clever wetbag to store 6 Candie cloth nappies made up ready to use.

- Sized to fit 6 Candies perfectly
- Handy snap handle that can hang off prams, change tables, high chairs and more.
- Breathable PUL laminated bag.
- Machine washable.
- Durable zipper.
- Very versitile.
- You can also put dirty cloth nappies in as well.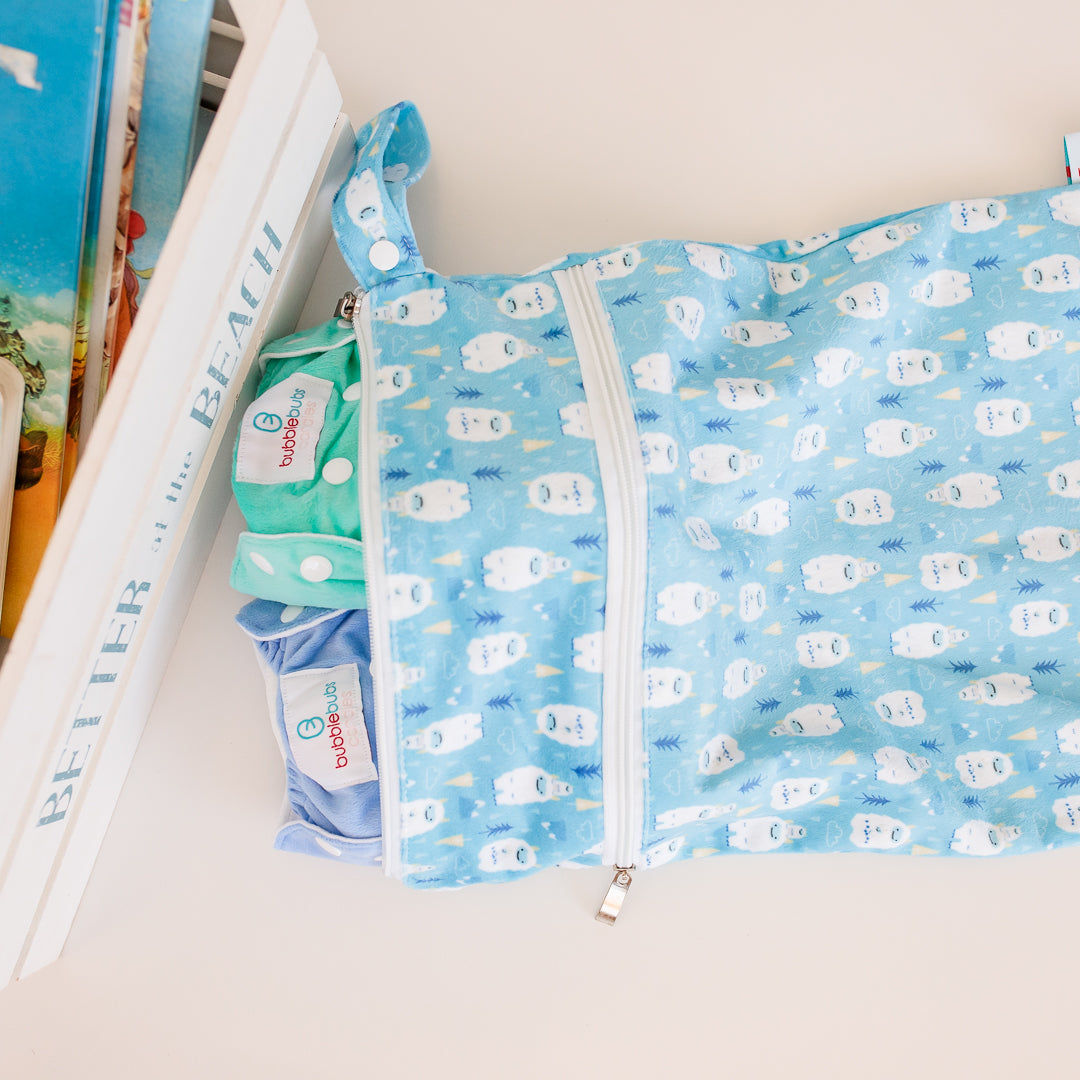 Doubble Pocket Wetbag x 1
This is the wetbag you use when you are out and about. It has 2 places to store nappies. One side for clean nappies and one side for used nappies.

- Sized at 33cm x 40cm
- Features 2 seperate zippered pockets
- Handy snap handle that can hang off prams, change tables, high chairs and more
- Breathable PUL laminated bag
- Machine washable
- Durable zipper
- Very versitile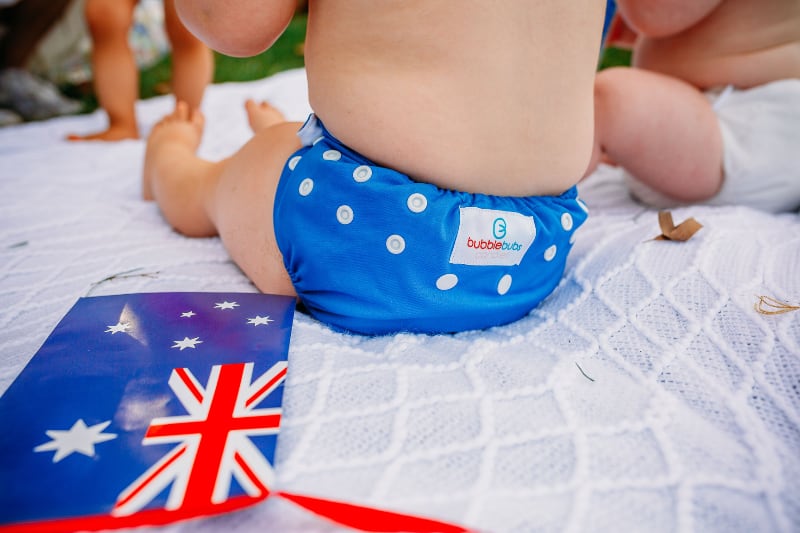 Who Is The Cloth Nappy Box?
We are Bubblebubs, over 18 years experience making the best designed and most awarded cloth nappy in Australia. We are the oldest cloth nappy maker in Australia.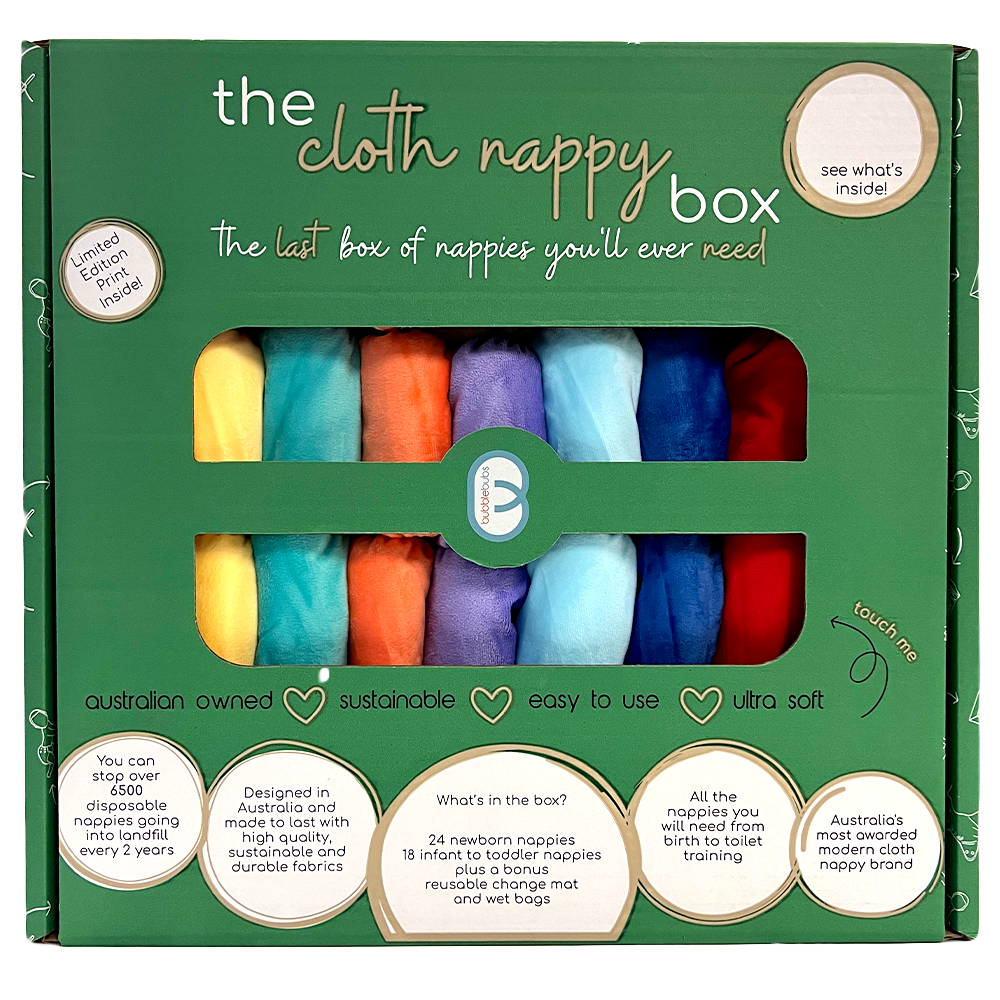 Pickup The Only Box Of Nappies You Will Ever Need To Buy
If you would like to save money, help the environment and put your baby in cloth instead of plastic.
Get Your Box